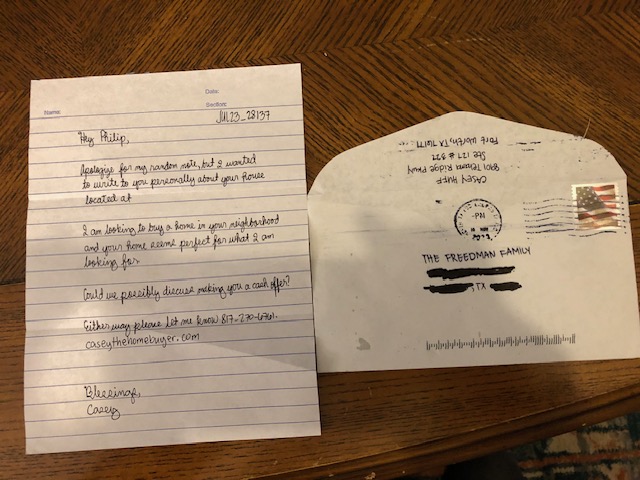 Good Morning
In yesterday's mail I got the above letter. The person who sent this letter did almost everything correct. Of course the envelope was opened! it looks like someone hand addressed it, and if they did they have good handwriting. Plus they used a full price 1st class stamp.
Once opened, the letter is not a full sheet of paper but 5 3/4 x 7 3/4 or the size of a small note pad. It was also "handwritten" but with a different script. They did address me by name. But they made two big mistakes that indicate this letter was a mail merge letter that used a template and a mailing list.
One is at the end of the first paragraph "…about your house located at" no address; it was left blank. That got me to looking at this letter a little more closely. I noticed the date was Jul 23_28137 ???? The letter was postmarked Nov. 10, I think.
If you are going to do personalized mass mailing (email or mail) send one to yourself and proofread it to make sure all the blanks are filled out. Bonus point: add a P.S. A P.S. is one of the items people read first; it reinforces the main point in your letter.
Next up
I was consulting with a person who was new in their industry. We were exploring ways to get more customers with almost no budget. I gave them some ideas all involving very little money but a lot of work.
There are two ways to get customers for a new business, fast and slow. Fast in most cases takes a far larger budget than the slow methods. But I found that the slow methods get you customers who will be better repeat customers.
Finally
I am offering a Black Friday Special. I am restarting my consulting service, so I am looking for at least five people who would like one-on-one face-to-face help with their advertising/marketing. We would meet at minimum one hour per month. During our time together we can cover the effectiveness of your web site, social media, texting and emailing, as well as networking presentations, your customer list, how you are using it and more.
For the lucky people who take me up on this offer, I am charging just $50 per month! Yes $50! Instead of $300 that I have charged in the past. Why am I charging only $50? I'm restarting, so I need clients. I also need testimonials; each person will be asked to provide a testimonial that can be used to attract additional clients at my regular price.
If you are interested all you have to do is contact me at Phil@MyMarketingCure.com, reply to this email or call me at 817-616-5155 .
Until Next time!
Phil
*******************************************************
If you have a business that is two years or older and would like help keeping your current customers active and away from your competition or would like to make your past customers current again, then contact me by clicking here or call me at 817-616-5155.
If you have enjoyed these marketing tips, you can leave me a review at this link , Thanks.