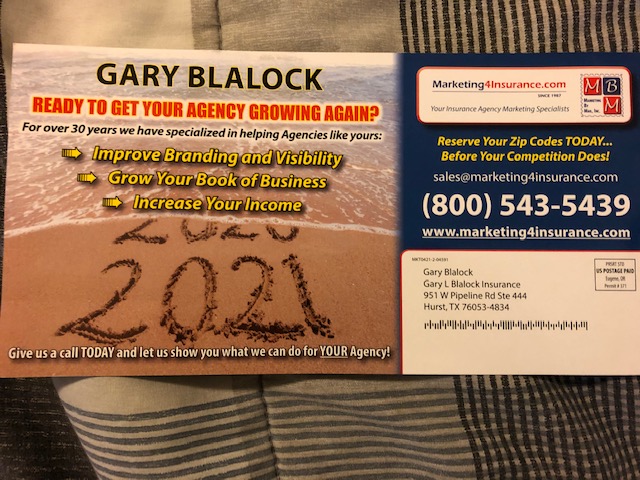 Good Morning
This card landed in my mailbox the other day. I was about to throw it out, but I decided to keep it for a few reasons that I will go over later. As you can see, it is not addressed to me but to the insurance firm that used to have my address. I've had my address for just over 3 years; before that the landlord had my address for a few years. Gary Blalock had moved to a new office in the same building, then about two years ago closed his office and I think sold his book of business to the agent next door to him. The point is, he has not been here for a few years, but I still get his mail from this company.
You may notice the company sending the mail is a marketing company that specializes in marketing by mail! Wouldn't you think that they would update their list?
That's one reason I kept it. Another is the headline under the personalization, "Ready to get your agency growing again?" At this point in time it's a very relevant question. This is a question that is on the minds of many business owners. Just by changing "agency" to "company" almost any B2B business can use it.
The other reason is that they personalized the post card, once on this side and three time on the other side. Personalization gets people to stop what they are doing and read the card.
This card is also a big or jumbo card (6×11) instead of a small (4×6) card that is easy to miss as it hides in-between other mail. As with all your other marketing, you want your direct mail to be seen and stand out.
Finally, they give us three ways to contact them: an 800 number, a web site and an email address, with good calls to action.
Now what about you? What are you doing to get your business growing again?
Till next time.